Union's Profile
We have the privilege to work with an object that exerted and still exerts a special charm either its about a conjectural or a commercial jewel. Five thousand years of tradition of the greek jewel,constitute strong foundations and important legacy that make us understand the responsibility of carrying on this tradition. A continuity that will presuppose and guarantee RELIABILITY-HONESTY-QUALITY.That is the triptych in which the ASSOCIATION OF SILVER GOLDSMITHS AND WATCHMAKERS OF LARISA'S PREFECTURE is basing every activity.The Association creating its new trade mark-emblem married these specific principals with these that the reflectance of the mark professes:
POWER-WISDOM-COMBATIVITY
. In that way the Association certifieswith the mark the shops that belong to the Association proving his consequence to his member but to every client also. However
the greatest burden is in the responsibility and the dignity of every shopowner that has signed with us the internal regulation of the Association
so every trade transactions will be escorted by the triptych RELIABILITY-HONESTY-QUALITY
.
The Association with base the city Larissa founded at 1966 from the need of people of our branch, technicians and merchants, for preservation, study and promotion of common economical, social and professional interests in the frame of serving the social total.
Purpose of the Association is the harvest, help development and spreading of trade-unionism's spirit in the branch of Silvergoldsmith and Watchmakers and the generalization of the member participation in trade-unionism organizations. Our goal yet is the systematic study of the branch problems so these problems will be solved in the best way. Likewise the collaboration, the development of solidarity spirit and mutual aid between all members,the assurement of better conditions and professional preparation and cultural ascent of all Associations members.
The President and the Boarding Council but and every member of the Association work consciously with decisivity and combativity creating the fundaments that will support every further action.
CHRIS GOURGIOTIS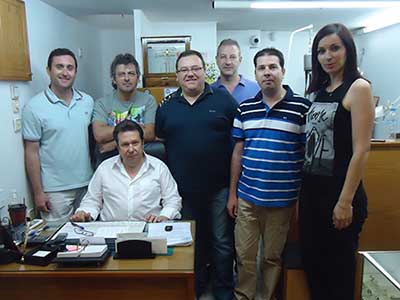 Administrative Council of Association
CHRISTOS GOYRGIOTIS, CHAIRMAN
GEORGIOS AGGELIS,VICE-PRESIDENT
DIMITRIOS PAPADIMITRIOU, G. SECRETARY
DIMITRIOS ROPLOS, CASHIER
LEONIDAS CHATZOULIS, (ASSIS.) G. SECRETARY
ANTONIS MERISTOUDIS, (ASSIS.) CASHIER
ANNA GATSA, MANAGER OF PUBLIC RELATIONS & EVENTS
Outgoing Administrative Councils of Association
FROM 20-7-2008 TO 19-7-2011
CHRISTOS GOYRGIOTIS, CHAIRMAN
GEORGIOS AGGELIS,VICE-PRESIDENT
GEORGIOS RACHMANIDIS, G. SECRETARY
DIMITRIOS ROPLOS, CASHIER
DIMITRIS PAPADIMITRIOY, (ASSIS.) G. SECRETARY
ANTONIS MERISTOUDIS, (ASSIS.) CASHIER
ACHILLEAS KALATHAS, MANAGER OF PUBLIC RELATIONS & EVENTS
FROM 20-7-2005 TO 19-7-2008
CHRISTOS GOYRGIOTIS, CHAIRMAN
IOANNIS PATETSOS, VICE-PRESIDENT
GEORGIOS RACHMANIDIS, G. SECRETARY
GEORGIOS AGGELIS, CASHIER
GEORGIOS KARYOTIS,(ASSIS.) G. SECRETARY
DIMITRIS CHASAMPALIOTIS,(ASSIS.) CASHIER
DIMITRIS PAPADIMITRIOY, MEMBER