Unions Trademark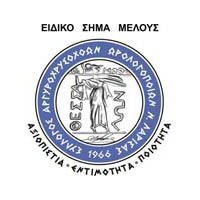 The Association of silver goldsmith and watchmaker of Larissas prefecture in his effort to protect the consumers and assure the creation of conditions of healthy competition among its member that work in the prefecture of Larissa Association's TRADE MARK – EMBLEM.
The TRADE MARK has a circular shape.
Circumferential the words "ASSOCIATION OF SILVERGOLDSMITH AND WATCHMAKERS". Association's emblem represents the Thessalic Athina Itonia - Ancient Thessalic Coin (196-146 BC).
The choice of the coin was based in the elements that Athina's presence imparts to the coin:POWER-WISDOM-COMBATIVITY elements that characterize our branch also.